Discover more from Stained Page News
Cookbook fans, you have come to the right place.
Over 12,000 subscribers
"Restaurant cookbooks are making tentative moves towards a comeback, it seems." -
Howdy cookbook fans!
Today we're going to dive deep into one of fall's big titles, which is from one of Chicago's most-beloved restaurants: The Lula Cafe Cookbook by Jason Hammel. Best of all? The interview below was conducted by an old friend of mine,
! Go check out his newsletter,
Something Glorious
.
So. Restaurant cookbooks. Supposedly publishers don't publish them any more: that's what everyone says, anyway. And yet here we have Lula Cafe, the result of nearly 25 years of serving Logan Square diners, in which chef Jason Hammel shares the story of the restaurant and the food served there. And Hammel is not alone: we have quite a few restaurant books this fall, actually! From Williamsburg's Diner to Rintaro by Sylvan Mishima Brackett (which yes is the featured advertiser in this issue) to the new Restaurant Gordon Ramsay book, or heck, even books like the Eater cookbook and Signature Cocktails, which highlight multiple restaurants (and bars, in the case of cocktails). Restaurant cookbooks are making tentative moves towards a comeback, it seems.
So, are restaurant cookbooks truly back?1 Let's explore The Lula Cafe Cookbook and find out.
---
Today's issue of Stained Page News is brought to you by Hardie Grant North America and Rintaro: Japanese Food from an Izakaya in California (October 10, 2023) by Sylvan Mishima Brackett. The debut cookbook from one of San Francisco's most acclaimed restaurants, Rintaro translates the experience of a Tokyo izakaya to the home kitchen.
---
Q&A: Chef Jason Hammel and The Lula Cafe Cookbook
Many of the recipes of the beloved Lula Cafe are finally available for people to make at home. 
—Ari Bendersky 
What started as a project cooking soup has become one of Chicago's most beloved restaurants, Lula Cafe. Now, nearly 25 years after opening the restaurant in Chicago's Logan Square neighborhood, chef/owner Jason Hammel has pulled together 90 recipes that represent the DIY, creativity-driven ethos behind his restaurant in The Lula Cafe Cookbook. Hammel, along with his wife, Amalea Tshilds, was a pioneer in Chicago's farm-to-table movement, and started working directly with local farms to source produce and meats long before that became the norm for many restaurants. And many of the dishes—whether the pasta yiayia (bucatini with feta, brown butter, garlic, and cinnamon), the "Tineka" sandwich ( a vegetable club sandwich with satay sauce), or the chickpea and fennel tagine—often tie back to family or a personal story that deepen the connection to food. The restaurant has always centered around artistry, family, community, and collaboration, and that all comes through in this beautiful book. 
Here, Hammel discusses the restaurant's beginnings, why a cookbook now, how his Italian heritage (and his wife, Lea's, Greek background) come through in the recipes, the importance of working with local farmers and purveyors, and more.
---
After nearly 25 years, why did you decide to do a cookbook now? 
I could have done it awhile back, but I didn't have the space for it in my life. The pandemic gave me a sense of urgency of getting it done. In the sense that, as a chef and an owner, there's always this underlying anxiety of: how long can you keep this up and maintain the concentration and fortitude to run a restaurant? And how long will it be popular? You stay up at night thinking about your longevity. And here comes a pandemic that makes that real. I said to myself, I want to preserve this thing I have and recognize that this thing coming would be different than before. So I had a sense of urgency.
So how did the pandemic change Lula? 
Some of the things are pedantic and not that interesting, like inflation. But what really changed is the sense of fragility of our industry, the reflections we've had about changing some of the long-standing models that potentially weren't serving us well. And that strong communities matter. Coming out of the pandemic, I felt that more than ever. That is what really altered my perspective, and strengthened my belief in what a neighborhood restaurant can be in people's lives.
How did you figure out what you wanted the book to highlight?
I looked back at what spoke to me as a Lula historian–there were certain points and dishes that meant something to me, that had an impact on me. Both the recipes and headers, I wanted to have an evocative take on what food is to me in my life and to all of us at Lula. One day a dish comes and then it's gone, and I wanted to express how transient that is. We cook with the seasons, and whimsically, and I wanted to show that in the book and the contributions of the many people who have worked there–and recognizing the different eras. I've never been great, especially at the beginning, of keeping notes. So this is more focused on the last five or seven years. I could write another book tomorrow.
Are you planning another already?! 
Yeah, I have. I would like to do it and maybe pretty quickly. One angle is maybe doing a brunch-only cookbook and I'm starting to piece that together. For brunch, I'd love to dig deep into some techniques like cooking eggs. But I've also thought about writing a cookbook that tries to connect some of the food I grew up [eating] with actual traditional Italian cuisines of where my grandparents came from and what sort of associations or dissociations are there.
Before we get ahead of ourselves, talk about your experience of working on the book. When did you start? 
It took about a year. Sarah Rinkavage, a former chef of mine, is now a private chef. She and I were working on it together. It was a really good personal relationship experience and I got to rekindle my connection with her—and we had to remember and revise the things we did, and see if we still liked them. Without a partner like this, a cookbook cannot get written, especially having a full time job. We cooked all the dishes at my house and did all the photography here at my house with Carolina Rodriguez, who is now L.A. based, but was in Chicago for years. I feel like she got the vibe—it was all about color and is elegant and nuanced.
You and I talked at the party for Sarah Grueneberg's book Listen to Your Vegetables almost a year ago (Nov 2022). You told me you were working on a book then and felt the pressure, being at her book release party, to get it done. Looking back to that, what was that moment like for you and did it kick you in the butt to finish this? 
It definitely kicked me in the butt to finish, but to also put my best foot forward behind my work. And Sarah did a great job. Anytime I think about an event or whatever I think "What would Sarah Grueneberg do?" She was so honest and forthright and that's what I want to be. [My book is] getting a message out there that you can relate to this Chicago restaurant, even if you have never been there. It's a story about that community and the partnership that started it all. And I wanted to write something where the prose itself mattered, that's thoughtful and beautiful and evocative. Even if it's inside a recipe or about spices or using a blender, I wanted to write something that was focused on the sentence level and the words themselves. So hopefully people will find it a joy to read.
Is there any correlation to your scrappy beginnings with Lula to pulling this book together—or have your years of experience helped you organize this more cohesively? 
You never get rid of your origins and I don't know if it feels scrappy to you. I feel it's well put together and it's like Lula at our beginnings. And I just want to be humble. This is our origin story–we grow up but you don't grow out. 
One thing I'm proud of is the graphic designer, Melanie Mues, picked up on that early ethos of "'90s cafe turns into a grownup restaurant vibe." She really got that. The design for me really fits the Lula aesthetic.
So how has Lula grown up over the years?
My restaurant is 24 years old and it's still vibrant, creative, and full of youthful energy. That doesn't come from me, I'm 51. That comes from the team. It comes from an idea where you're 27, like I was when I started Lula, and you go for something and good things come from that. You feel that every day at Lula; that's part of our mission. The book celebrates that and that's not going away. The only way for a restaurant to go into its second decade, and potentially a third, is to connect with the energy with which it was created—an energy of potential, ambition without cause, running for something regardless of the risk. You see that everywhere in the food world now with pop ups and more, that young people are doing what [my wife] Lea and I did. The book to me represents that with its spirit and I wanted to put that out into the world.
What story are you trying to tell through the book? 
I've never been good at describing Lula itself in an elevator pitch. I've always struggled with that. Same with describing the book. But it's a story of young love and what it can be: a love between two people, the love for the work of being a chef, the connections we have made with farmers. It's really about young love. 
Looking back now, do these recipes, all the dishes you created, how do they tell that story? 
In some respects, there are moments in the book where the recipes are really personal, extremely so. It feels like it could be tangential, but it isn't. There's a panzanella recipe that talks about my late father-in-law. That's not to say he was the inspiration for that recipe, but he's always in my mind when I make a salad like that. I talk a bit in the book where I grew up in an Italian family, but the food we ate was informed very much by mid-century Americanism as much as "Italian." I'm informed by that, but freed up to explore how I want to explore. There isn't a strong sense of culinary tradition I have to rectify or honor, but more that I can explore some of the connections and also disconnections.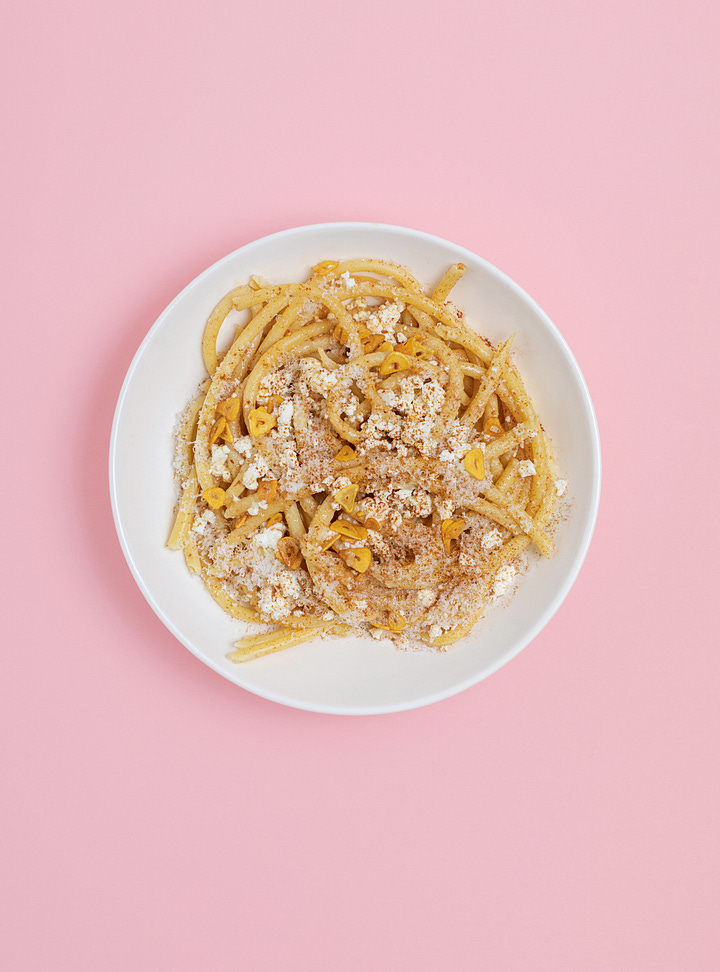 If you could pick a few recipes in the book either as favorites or that really define Lula, what are they and why? 
If I would pick one–pasta Yiayia. That's foundational for me. Some of the other dishes that are really evocative to me, the butternut squash with 'nduja is one of those, using a very typical Midwestern winter vegetable like a roasted winter squash and pairing [it] with a southern Italian ingredient. But then buying the 'nduja locally from the guys at Tempesta feels very Lula to me. I would also point out the salad with the pear and radicchio because again it's about a completely chance encounter with a farmer who had one ingredient who wanted to use that happened to be my favorite bitter green. But there's also a vinaigrette in there one of my chef friends came up with, and that shows we aren't afraid to collaborate and learn from our community and point it out when we do. Those are very Lula dishes to me. 
Talk about time stamping the recipes—why did you start that so many years ago and why did you include each in the book? 
This was a graphic design idea from the people at [graphic design agency] Nitewerk–Monica Jost is her name. She came up with the idea of stamping the menu. We always wrote the date on the menus, like Chez Panisse. Then they had the idea of using the banker stamp. This was done years ago and we still use the same stamp today. The banker stamp was maybe around 2005-2006.
You talked about how Charlie Trotter's book Vegetables guided you to cook seasonally. Is there anything instructive like that about the Lula book you subtly are trying to teach people? 
That's a great question. I think there are definitely some curious ingredients we like to include, so I hope it takes people where they can mix and match things. Taking a za'atar from one culinary tradition and using it somewhere else. But also teaching them how food connects ingredient by ingredient. 
How does sharing your family heritage and connection to food, and Lea's connection to food, help tell your story here? 
People know I'm interested in all things Italian and that's in part because we're all searching for a route to our identity. I think I loved the Italian-American world of my grandparents and my dad, that was lost in recent years. I'm more than ever nostalgic of being Italian, and I think Lea can say the same thing about being Greek. Both of us had culturally rich childhoods and both of us now are finding a bit of a loss in not finding those traditions. There's nostalgia in digging into the food of those cultures. 
Speaking of Lea, you met at the cafe that would eventually become Lula. You started out as friends and mutual lovers of soup, to then starting that business. How much of Lea is reflected in the Lula Cafe Cookbook? 
I think she's everywhere in this cookbook. I wrote it so it's my point of view. But I'm constantly referring to her past, her family's past, her voice, and the contributions that she has made. She's been away from making day-to-day dishes for a while so these dishes don't reflect that, but she's a founder and a trunk of the original tree. 
---
Ari Bendersky is a Chicago-based lifestyle journalist specializing in food, wine, spirits and travel and writes the Something Glorious newsletter on Substack. The former founding editor of Eater Chicago, Ari's work has appeared in the New York Times, WSJ magazine, Associated Press, Men's Journal, Wine Enthusiast, Departures, RollingStone.com, Crain's Chicago Business, Liquor.com and more.
---
Stained Page News Classifieds
I've been catching up with the archive of almost 100 classes at MyFiveThings on Substack, where you can view the first five minutes of classes from writers, musicians, and scores of creative artists and thinkers. Subscribe to My Five Things on Substack and get $10 off a ticket to any individual upcoming or on-demand session. Then go to myfivethings.com, where the classes are, to check out personal video invitations to upcoming live and online classes from writers like Cheryl Strayed and Andre Dubus III and singer-songwriter Valerie June.
Email me to run a classified ad in an upcoming issue!
1
Because if the answer is no and all we're doing is single subject cookbooks from Instagram-friendly DTC food brands for the rest of time, I am gonna go take a nap.