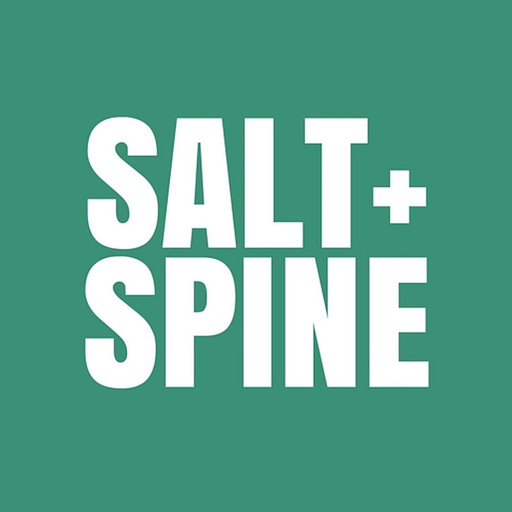 Sep 14 • 47M
Frankie Gaw on Olive Garden, Lion's Head Big Macs, and learning to love yourself
Our 13th season kicks off with the First Generation author.
Appears in this episode
We tell the compelling stories behind cookbooks you won't get anywhere else. Featuring interviews with leading authors, we explore the art and craft of cookbooks, looking at both new and vintage cookbooks and the inspirations behind them … the compelling people who create them … and their impact on home cooks and the culinary world.
Hi there, fellow cookbook lover. I'm here with great news: We'rrrreeee bacccckkkkk, baby! Season 13 (but who's counting?) of Salt + Spine starts right here, and we've got an awesome line-up of conversations headed your way this fall. Plus, loads of new featured recipes, bonus content, events, and more. We've got Deb Perelman. Dan Pelosi. Katie Parla. Hetty McKinnon. AND MORE! Like I said, "we're bacccccckkkk, baby!"
If you're not yet a paid subscriber to Salt + Spine, I'd love to extend a special offer of 20% off monthly or annual subscriptions for up to a year. Act fast - this is only valid for the first week of our new season!
A few fun things I've been reading lately…
B. Dylan Hollis (if you have TikTok, you've seen his vintage recipes) has one of the breakout cookbooks of the year with "Baking Yesteryear." He talks to the New York Times (B. Dylan Hollis is Bananas for Vintage Self-Published Cookbooks) about his growing collection of community cookbooks:

"Community cookbooks come from the church ladies and bridge clubs of the United States. They are the menus and the recipes of everyday folks. They're a treasure trove of information," Hollis said. He makes an excellent point: "You're not going to find Velveeta fudge in an Anthony Bourdain cookbook."
And now, onto this week's show with guest Frankie Gaw:
---
Pssssssst. Hey there, do you love Salt + Spine? We'd love if you shared this email with a friend who might want to #TalkCookbooks with us, too:
---
Episode 159: Frankie Gaw
In this week's episode, Frankie and I discuss:
How growing up in a Taiwanese-American family in Ohio shaped his relationship with food, and how he felt pulled toward a career in food media while working in tech,

The loss of Frankie's father, which led to a period of self-reflection that pushed Frankie to re-evaluate his priorities and purpose,

A winding path—through Skyline Chilis and his grandmother's recipes and a design-related career and a successful food blog and Instagram—that ultimately led to his debut cookbook, First Generation.
Plus, as always, we put Frankie to the test in our signature culinary game.
First Generation: Recipes from My Taiwanese-American Home
by Frankie Gaw
In First Generation, Frankie Gaw of Little Fat Boy presents a tribute to Taiwanese home cooking. With dishes passed down from generations of family, Frankie introduces a deeply personal and essential collection of recipes inspired by his multicultural experience, melding the flavors of suburban America with the ingredients and techniques his parents grew up with.

In his debut cookbook, Frankie will teach you to master bao, dumplings, scallion pancakes, and so much more through stunning visuals and intimate storytelling about discovering identity and belonging through cooking. Recipes such as Lap Cheong Corn Dogs, Honey-Mustard Glazed Taiwanese Popcorn Chicken, Stir-Fried Rice Cakes with Bolognese, Cincinnati Chili with Hand Pulled Noodles, Bao Egg and Soy Glazed Bacon Sandwich, and Lionshead Big Mac exemplify the stunning creations born out of growing up with feet in two worlds.

Through step-by-step photography and detailed hand-drawn illustrations, Frankie offers readers not just the essentials but endless creative new flavor combinations for the fundamentals of Taiwanese home cooking.
We 💚 local bookstores. Pick up your copy of Frankie's First Generation here:
This week, paid subscribers will receive two recipes from Frankie's First Generation: First up, his Lap Cheong Corn Dogs, "a dream pairing of cornbread batter and Chinese sausage—destined to be together in the mind of a young Asian American kid from suburban Ohio." Plus, Frankie's Stir-Fried Rice Cake Bolognese. "I can trace my love of Bolognese all the way back to third grade," Frankie writes, "when my best friend, who lived across the street, introduced me to what would become one of my favorite meals: SpaghettiOs with Meatballs."
These recipes will drop into paid subscribers' inboxes in the next 48 hours! To get these and hundreds more featured recipes, become a subscriber today.
Salt + Spine is supported by listeners like you. If you love cookbooks, what are you waiting for?
This Week's New Cookbook Releases
Fall is hereeeee! It's officially cookbook season. And here's what is fresh this week: